Bodum
BISTRO
Tea pot, 1.0 l, 34 oz, incl. 2 pcs Pavina Outdoor 0,25L, 8 oz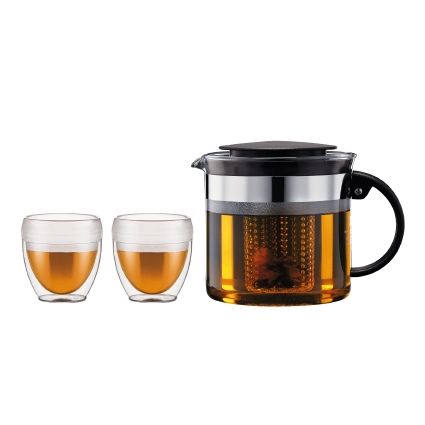 Bodum
BISTRO
Tea pot, 1.0 l, 34 oz, incl. 2 pcs Pavina Outdoor 0,25L, 8 oz
Free Delivery over € 150,00

30 Days Return Policy
The BISTRO NOUVEAU tea pot by BODUM combines design, quality and functionality. The shapely pot is made of heat-resistant glass. High quality tea leaves can also be used more than once. Simply put the filter back in the pot and pour fresh, hot water over it.
• Made of taste-neutral and heat-resistant borosilicate glass.
• The large BPA-free plastic filter gives the tea leaves extra space to develop the aroma even better.
• The brewing process can be stopped by removing the integrated filter from the pot.
• Made in Europe

PAVINA® OUTDOOR is a crystal clear lightweight double wall tumbler designed for the outdoors. Ideal for everyday use and functional for large outdoor barbeques. We have recently invented a new technique for the production of our double wall tumblers by using shatterproof plastic. The tumblers are produced in one whole piece - no welding and no possibility of leaking – and even better than that, it is all done in a sustainable way.
• Ideal for serving your favourite outdoors and poolside drinks;
• In the end you can simply put them in the dishwasher.

Artikkelnummer

K1875-01

Color

Black

Kapasitet

0.0 L

Bredde (cm)

0.0

Høyde (cm)

0.0

Dybde (cm)

0.0

EAN

699965400439

Material

Stainless steel, plastic, borosilicate glass