FYRKAT®
Grill tool metal brush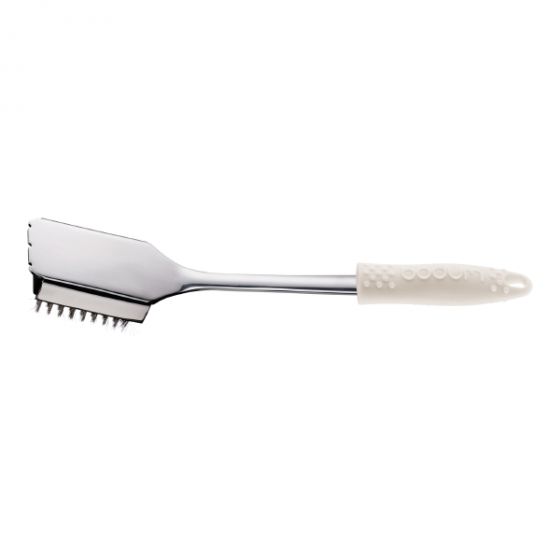 FYRKAT®
Grill tool metal brush
Free Delivery over $25.00

14 Days Return Policy
About the FYRKAT Metal Grill Tool Brush
Grilling outdoors is one of life's simple pleasures. There's little comparison to the delicious, smoky taste of food cooked on a barbeque, washed down with an ice-cold drink. A good barbeque is essential to a successful outdoor meal. But grilling is more fun and the results more professional if you also invest in a set of quality outdoor cooking accessories.
Featuring the same stylish design as our charcoal grill, the FYRKAT Metal Grill Tool Brush comes into its own once you've eaten your fill of chargrilled delights. Because while barbeque food is delicious, it can leave rather a mess on your charcoal grill.
This durable metal brush loosens residue and grease with ease for fuss-free cleaning, while its long stem and silicone handle keep you at a safe distance from any residual heat. Then simply pop it in the dishwasher and enjoy more time entertaining your guests or relaxing after your meal.
Main Features & Benefits
Long-handled metal grill tool brush – ideal accessory for your charcoal grill
Sturdy metal brush removes residue and grease with ease
Crafted from durable stainless steel
Heat-resistant silicone handle embossed with the Bodum logo
Useful hanging loop keeps tools handy during cooking
Available in a choice of colors
Easy to use and easy to clean
Dishwasher safe
Matching outdoor cooking accessories available
Use & Care
Wash in hot soapy water before first use and dry thoroughly. Dishwasher safe.
Item Number

11489-913

Coming Soon

No

Shatter Proof

No

Color

Off white

Capacity

0.0 oz

Width (cm)

7.0

Height (cm)

33.0

Depth (cm)

4.0

EAN

699965270230

Design Line

FYRKAT®

Material

stainless steel, silicone, plastic, brass