Bodum
DOURO
Teapot 1.5l, 4 porcelain mugs, 75g pack of herbal tea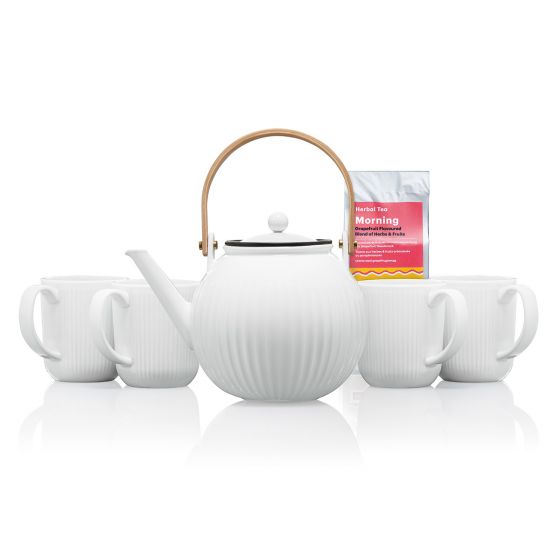 Bodum
DOURO
Teapot 1.5l, 4 porcelain mugs, 75g pack of herbal tea
Free Delivery over $25.00

14 Days Return Policy
About the DOURO Teapot Set
Enjoy perfectly brewed, deliciously pure tea every day, courtesy of the DOURO teapot set. The handsome DOURO teapot brings our unique French press system into your home, giving you complete control over the steeping process – once your tea has reached its preferred strength, simply depress the plunger to stop the tealeaves brewing.
Pour your freshly brewed tea into our curvaceous DOURO mugs, then sit back and savor. The tea press and mugs are crafted from premium quality, white porcelain, inspired by the rolling vineyards of Portugal's magical Douro Valley.
Included in this teapot set is a 75g pack of wonderfully zingy Morning Star herbal tea, a loose-leaf blend of herbs and fruits with an uplifting grapefruit flavor. This charming collection makes an ideal tea gift set for the tea lover in your life.
Main Features & Benefits
The DOURO teapot uses our iconic French press brewing system for an exceptionally pure and refreshing taste.
This teapot set includes one DOURO teapot (with a 1.5-liter capacity), four porcelain DOURO mugs, and a 75g pack of loose-leaf Morning Star herbal tea.
Teapot and mugs made of premium white porcelain, inspired by the curved terraces of Portugal's beautiful Douro Valley.
Stainless steel tea press uses our patented system that stops tea from brewing once the plunger has been lowered, to prevent tea becoming bitter.
Perfect for loose-leaf tea and teabags.
Douro mugs are versatile, stackable, and dishwasher and microwave safe.
Morning Star is a premium quality, loose-leaf herbal tea with a wonderfully zingy flavor, ideal for a morning boost.
Use & Care
Clean the DOURO teapot and mugs before first use and after each subsequent use. The mugs can be washed by hand or popped in the dishwasher. The teapot is hand wash only.
Item Number

K11920-03

Coming Soon

No

Shatter Proof

No

Color

White

Width (cm)

0.000

Height (cm)

0.000

Depth (cm)

0.000

EAN

699965430092

Design Line

DOURO