PEBO®
Vacuum coffee maker with burner and accessories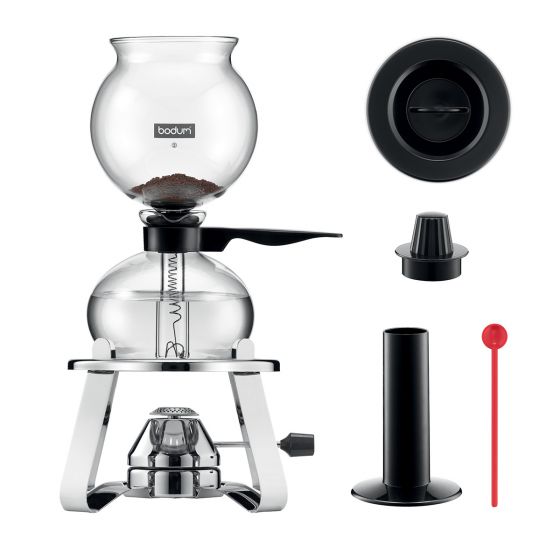 PEBO®
Vacuum coffee maker with burner and accessories
Free Delivery over $25.00

14 Days Return Policy
About the PEBO Vacuum Coffee Maker with Burner & Accessories
Take your coffee brewing to the next level with the PEBO Vacuum Coffee Maker. Part art, part science with a dash of gravity-defying magic, this siphon coffee maker brings a theatrical air to the brewing process. And the results are truly extraordinary.
The vacuum coffee brewing method has long captivated coffee enthusiasts, as it ensures that all the precious oils are extracted from the coffee beans. The result is coffee that's deliciously pure in aroma with a light body and heavenly taste. Thanks to the glass construction, you can admire the eye-catching brewing process before savoring your coffee. Plus the process uses an integrated filter, ensuring that it epitomizes Bodum's motto, "make taste, not waste".
The PEBO Vacuum Coffee Maker comes with a gas burner, which keeps energy consumption down and means you can brew delicious coffee from anywhere you want. This is a very modern coffee maker that oozes old school charm.
Main Features & Benefits
Vacuum coffee maker that brings out the full flavor and aroma of your coffee for the perfect brew
Powered by a simple gas burner
Heat-resistant borosilicate glass construction that showcases the theatrical brewing process
Environmentally friendly integrated filter that reduces waste
The handle is made from soft rubber that's comfortable to hold
Easy to use and clean
Use & Care
Brewing with the PEBO looks dramatic, but it's really very simple.
Pour water into the lower glass jug.
Place on top of the burner.
Insert the filter into the funnel and secure it with the chain.
Place ground coffee into the funnel – we recommend one scoop for each cup; any grind will do.
Place the funnel over the lower jug and bring to the boil.
Water rises as it boils, passing through the funnel and mixing with the coffee grounds.
Remove the coffee from the heat and watch as the coffee passes back into the lower jug.
Serve and savor.
Item Number

K1218-16

Coming Soon

No

Shatter Proof

No

Color

Chrome

Capacity

34 oz

Width (cm)

20.9

Height (cm)

38.8

Depth (cm)

20.9

EAN

699965333218

Design Line

PEBO®

Material

Stainless steel, plastic, borosilicate glass